ANALISIS HUBUNGAN KARAKTERISTIK INTERNAL DENGAN JARINGAN KOMUNIKASI PADA PETANI KOPI DI NAGORI HINALANG
Grace Sonya Tondang

Program Studi Agribisnis, Fakultas Pertanian, Universitas Riau

Rosnita Rosnita

Program Studi Agribisnis, Fakultas Pertanian, Universitas Riau

Yulia Andriani

Program Studi Agribisnis, Fakultas Pertanian, Universitas Riau
Keywords:
Communication Network, Coffee farmer, Relationship
Abstract
Karakteristik petani adalah hal yang sangat mempengaruhi perilaku komunikasi yang dibentuk oleh petani kopi yang ada di Nagori Hinalang, Kecamatan Purba, Kabupaten Simalunngun. Karakteristik petani terdiri dari umur, pendidikan, tanggungan keluarga, pengalaman usahtani, luas lahan dan kekosmopolitan. Karakteristik petani perlu dilihat dari hubungannya dengan berbagai hal yang berhubungan dengan kelompok, agar di peroleh satu pendekatan yang sesuai dengan karakteristiknya. Hubungan karakteristik petani dengan jaringan komunikasi dapat dilihat dari tingkat sentralitas, sentralitas global dan kebersamaan yang terbentuk. Sehingga. Untuk itu tujuan penelitian yaitu: (1) Mendeskripsikan karakteristik internal petani kopi di Nagori Hinalang (2) Menganalisis hubungan karakteristik internal dengan jaringan komunikasi pada petani kopi di Nagori Hinalang. Teknik pengambilan sampel yang digunakan yaitu Purposive Sampling dengan pertimbangan tertentu, yaitu sampel yang diambil merupakan kelompoktani yang aktif, dengan cara mengambil dua orang perangkat desa untuk memberikan informasi kunci tentang kelompok tani yang aktif. Total sampel yang di dapat yaitu sebanyak 46 petani. Hasil yang di peroleh dari karakteristik internal adalah petani dominan berusia produktif, dengan tingkat pendidikan katagori sedang, tanggungan keluarga kategori sedang, pengalaman usahatani kategori sedang, luas lahan kategori sedang, dan kekosmopolitan dengan kategori sedang. Berdasarkan hasil uji korelasi menunjukan bahwa variable karakteristik petani kopi berhubungan dengan jaringan komunikasi adalah umur, tingkat pendidikan,luas lahan dan kekosmopolitan.
The characteristics of farmers are things that greatly affect the communication behavior formed by coffee farmers in Nagori Hinalang, Purba District, Simalunngun Regency. Characteristics of farmers consist of age, education, family responsibilities, farming experience, land area and cosmopolitan. Characteristics of farmers need to be seen from their relationship with various things related to the group, in order to obtain an approach that is in accordance with their characteristics. The relationship between the characteristics of farmers and the communication network can be seen from the level of centrality, global centrality and togetherness that is formed. So that. For this purpose, the research objectives are: (1). Describe the internal characteristics of coffee farmers in Nagori Hinalang (2) Analyze the relationship between internal characteristics and communication networks for coffee farmers in Nagori Hinalang. The sampling technique used is purposive sampling with certain considerations, namely the sample taken is an active farmer group, by taking two village officials to provide key information about active farmer groups. The total sample obtained is as many as 46 farmers. The results obtained from internal characteristics are dominant farmers of productive age, with moderate level of education, moderate category of family dependents, moderate category of farming experience, medium category of land area, and cosmopolitan with moderate category. Based on the results of the correlation test, it is shown that the characteristics of coffee farmers related to the communication network are age, education level, land area and cosmopolitan.
References
Badan Pusat Statistik Indonesia. 2019. Statistik Indonesia Tahun 2019. BPS. Jakarta
Dinas Perkebunan Kabupaten Simalungun.2017. Badan Pusat Statistik Kabupaten Simalungun.
Kecamatan Purba dalam Angka 2015. Badan Pusat Statistik Kabupaten Simalungun.
Prell, Christina. 2012. Social Networks Analysis: History, Theory and Methodology. Sage Publications. London.
Riawati, Rosnita dan Roza Yulida. 2016. Karakteristik Internal dan Karakteristik Eksternal Petani Kelapa Sawit Di Desa Buluh Rampai Kecamatan Seberida Kabupaten Indragiri Hulu. Jurnal Komunikasi. 3(2): 1-10
Riduwan. 2010. Skala Pengukuran Variabel-variabel Penelitian. Alfabeta. Bandung.
Scott. 2009. Social Network Analysis: A Hand Book. Second Edition. Sage Publications Inc. California (US).
Zulkarnain. 2015. Analisis Hubungan Jaringan Komunikasi dengan Taraf Penghidupan dan Pola Pikir dalam Pemberdayaan Pembudidaya Ikan di Kabupaten Kampar, Riau. Jurnal Jaringan Komunikasi Dalam Kegiatan Produksi dan Pemasaran.10(1): 115-124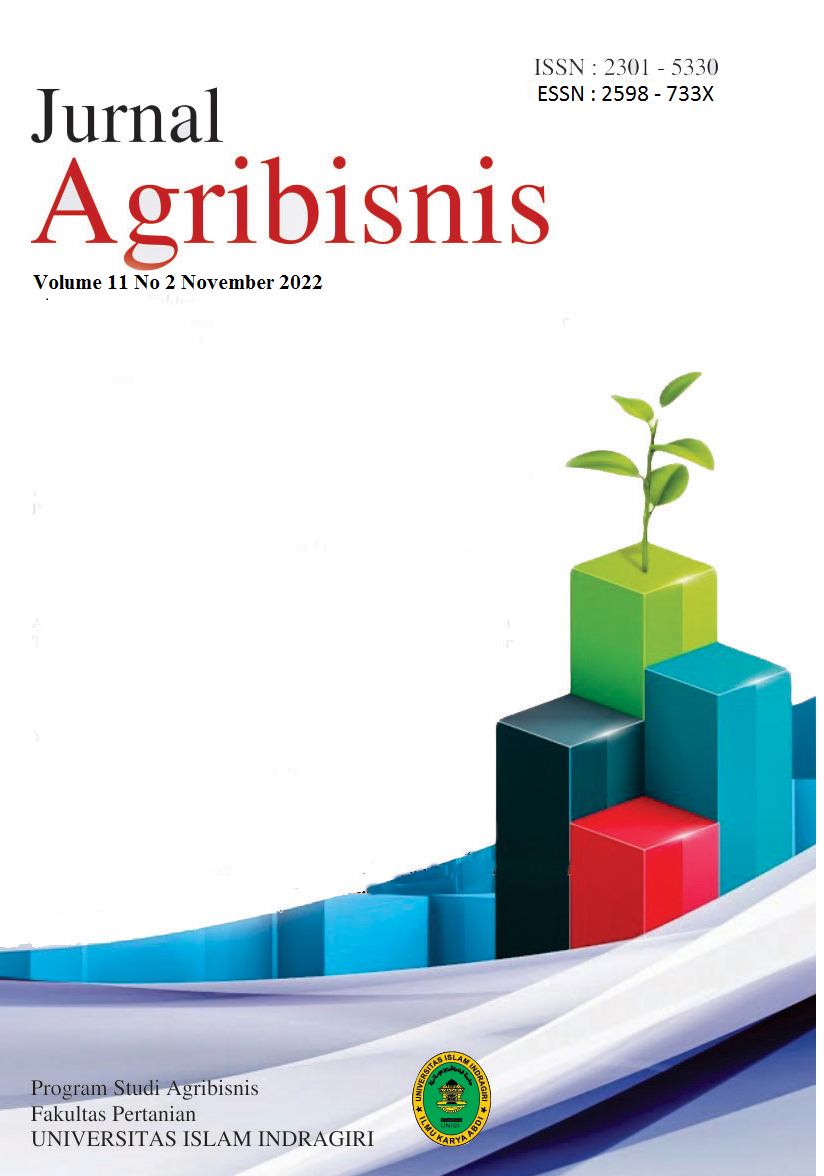 Copyright (c) 2023 JURNAL AGRIBISNIS
This work is licensed under a Creative Commons Attribution-ShareAlike 4.0 International License.