ANALISIS USAHA DAN NILAI TAMBAH GULA KELAPA DI KECAMATAN TEMPULING KABUPATEN INDRAGIRI HILIR
Nina Sawitri

Program Studi Agribisnis Universitas Islam Indragiri

Halim Perdana Kusuma

Program Studi Agribisnis Universitas Islam Indragiri

Yeni Afiza
Keywords:
Coconut Sugar, Profit, efficiency, Added Value
Abstract
Gula kelapa merupakan salah satu gula yang berperan dalam industri makanan, baik di tingkat industri rumah tangga, industri kecil sampai besar. Pengusahaan gula kelapa tetap berkembang hingga saat ini, namun masih terbatas dibeberapa daerah dimana kesempatan kerja alternatif masyarakat relatif terbatas. Pendayagunaan kelapa untuk gula kelapa berkembang terutamadengan merosotnya harga kopra dan kelapa segar. Di pedesaan, pengusahaan gula kelapa merupakan kegiatan keluarga yang cukup berperan dalam memberikan nilai tambah. Penelitian ini bertujuan untuk mengetahui keuntungan dan efisiensi serta besarnya nilai tambah produk dari usaha gula kelapa di Kecamatan Tempuling Kabupaten Indragiri Hilir. Hasil penelitian menunjukkan bahwa keuntungan rata-rata sebesar Rp 1.308.164/bulan dan nilai efisiensi atau R/C yang diperoleh pada pengolahan gula kelapa adalah sebesar 1,34. Sedangkan nilai tambah nya sebesar Rp 1.339,96/Kg.
Coconut sugar is one of the sugars that plays a role in the food undustry, both at the home industry level, small to large industries. Coconut sugar business continues to grow today, but is still limited in some areas where alternative employment opportunities for the community are relativelt limited. Untilization of coconut for coconut sugar has grown especially with the decline in the price of copra and fresh coconut. In rural areas, coconut sugar exploitation is a family activity that plays a significant role in providing added value. This study aims to determine the benefits and efficiency as well as the value added of the product from the coconut sugar business in Tempuling District, Indragiri Hilir Regency. The data analysis method used is the analysis of costs, revenues, profit, efficiency and added value. The result showed that with an average total cost of Rp. 3.605.002,39/month, the average revenue was Rp. 4.936.620,00/month, an average profit of Rp. 1.331.617,61/month and the efficiency value of R/C obtained in coconut sugar processing is 1,35. While the added value is Rp. 1.339,97/kg.
References
Arifin, Bustanul. (2004). Analisis Ekonomi Pertanian Indonesia, Jakarta. Penerbit Buku Kompas
Arifin. B, (2001). Spektrum Kebijakan. Pertanian Indonesia. Jakarta. Erlangga.
Aurand L., Wood, A., Wells, M. (1987). Food Composition and Analysis. Newyork:Reinhold Company.
Bangun, W. (2007). Teori Ekonomi Mikro. Bandung. PT. Refika Aditama.
Budhisatyarini, T. (2008). Seminar Nasional Dinamika Pembangunan Pertanian Dan Pedesaan: Tantangan dan Peluang Bagi Peningkatan Kesejahteraan Petani; Nilai Tambah Diversifikasi Hasil Usahatani Bawang Merah Menjadi Bawang Goreng. Pusat Analisis Sosial Ekonomi Dan Kebijakan Pertanian Departemen Pertanian : Bogor
Hayami, Y. (1987). Agricultural Marketing and Processing in Upland Java: A Perspective From A Sunda Village. Bogor. CGPRT.
Hernanto, F. (1991). Ilmu Usaha Tani. Jakarta. PT. Penebar Swadaya.
Kristianingrum, Susila. (2009). Analisis Nutrisi Dalam Gula Semut. Fakultas Matematika dan Ilmu Pengetahuan Alam. Universitas Negeri Yogyakarta.
Soekartawi. (1995). Analisis Usaha Tani. Jakarta. UI Press.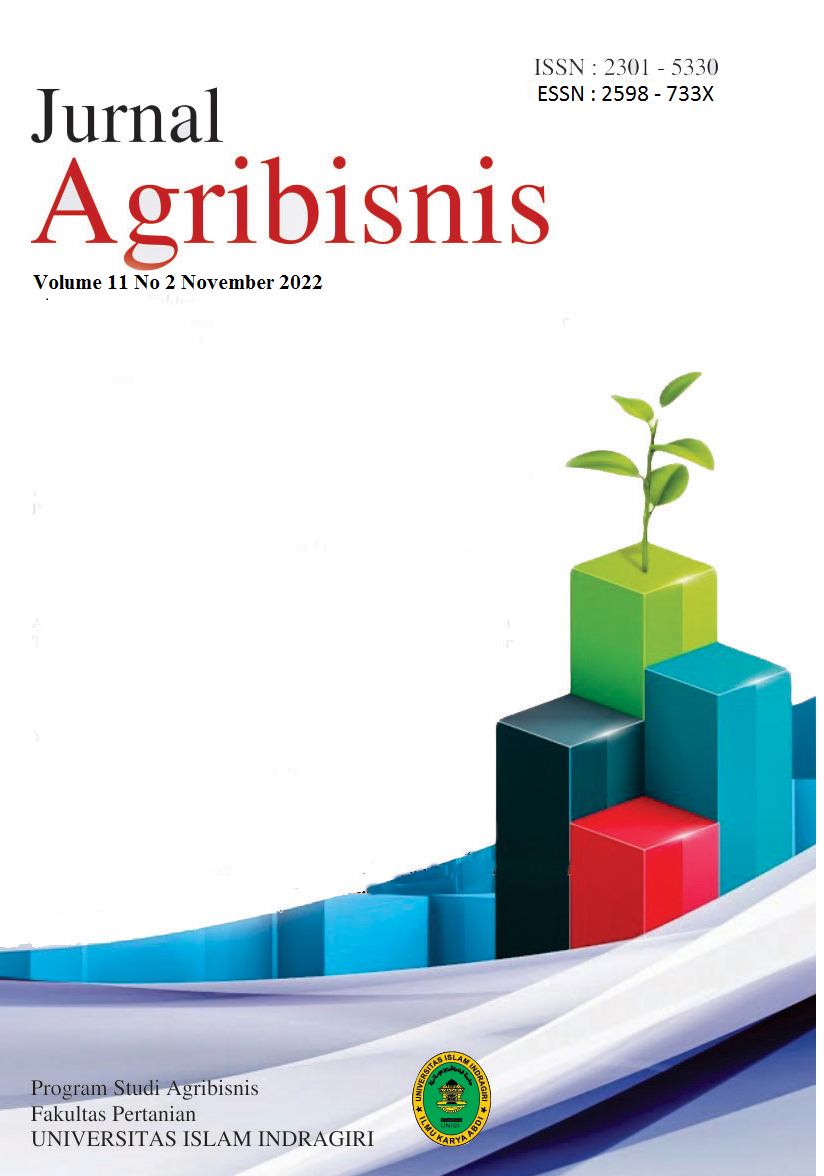 Copyright (c) 2022 JURNAL AGRIBISNIS
This work is licensed under a Creative Commons Attribution-ShareAlike 4.0 International License.