STRATEGI PENINGKATAN KEBERDAYAAN DENGAN PENDEKATAN MODAL INTELEKTUAL PADA KELOMPOK TANI PADI DI DESA KUOK KECAMATAN KUOK KABUPATEN KAMPAR
Deby Kurnia Kurnia

Universitas Riau

Didi Muwardi

Program Studi Agribisnis Fakultas Pertanian Universitas Riau

Kausar

Program Studi Agribisnis Fakultas Pertanian Universitas Riau

Fitra Cahya mahdani

Program Studi Agribisnis Fakultas Pertanian Universitas Riau
Keywords:
intellectual capital, empowerment, strategy
Abstract
Modal intelektual dan keberdayaan memiliki irisan dalam dimensi pembentuknya. Keduanya saling berhubungan dan menjadi ukuran dalam peningkatan kesejahteraan masyarakat termasuk anggota kelompok tani padi sawah. Tradisi bertanam padi sawah di Desa Kuok telah berlangsung sejak lama namun belum terlihat peningkatan produksi yang signifikan. Perlu upaya mengoptimalkan modal intelektual dalam peningkatan keberdayaan kelompok tani. Penelitian ini bertujuan untuk mengindentifikasi modal intelektual dan mengukur tingkat keberdayaan anggota kelompok tani yang selanjutnya dirumuskan prioritas strategi peningkatan keberdayaan dengan pendekatan Modal Intelektual. Sumber informasi utama dari Responden yakni ketua dan anggota kelompok tani serta didukung informasi dari expert. Pengukuran modal intelektual dan keberdayaan menggunakan analisis Skala Likert dengan 5 tingkatan pengkategorian serta rumusan strategi dianalisis dengan Analytic Hierarchy Process (AHP). Modal Intelektual berada pada kategori sedang dengan tingkat intensitas dimensi modal manusia 34,34 persen (rendah) dan modal organisasi 64,65 persen (tinggi). Strategi yang termasuk sangat strategis adalah peningkatan pengetahuan dan ketrampilan petani melalui media informasi digital dan perubahan teknik budidaya komoditas padi.
Intellectual capital and empowerment have slices in their constituent dimensions. The two are interconnected and become a measure in improving the welfare of the community, including members of the lowland rice farmer group. The tradition of cultivating lowland rice in Kuok Village has been going on for a long time but has not seen a significant increase in production. Efforts are needed to optimize intellectual capital in increasing the empowerment of farmer groups. This study aims to identify intellectual capital and measure the level of empowerment of farmer group members, which then formulates priority strategies for increasing empowerment using the Intellectual Capital approach. The main sources of information from respondents are the chairman and members of farmer groups and supported by information from experts. Measurement of intellectual capital and empowerment using Likert Scale analysis with 5 levels of categorization and strategy formulation analyzed by Analytic Hierarchy Process (AHP). Intellectual Capital is in the medium category with the intensity level of the dimensions of human capital 34.34 percent (low) and organizational capital 64.65 percent (high). A very strategic strategy is increasing the knowledge and skills of farmers through digital information media and changing rice cultivation techniques
References
Herlina, Vivi. 2019. Panduan Praktis Mengolah Data Kuesioner Menggunakan SPSS. Jakarta: Elex Media Komputindo.
Kozera, Magdalena. 2011. Intellectual Capital In Agriculture – Measurement and Determinants. Oeconomia Journal. 10 (3): 83 - 95.
Muwardi, Didi., Saide Saide., Richardus Eko I., Mohammad Iqbal., Endang Siti A., and Herzavina Herzavina. 2020. Intangible Resources and Institution Performance: The Concern of Intellectual Capital, Employee Performance, Job Satisfaction, dan its impact on organization performance. International Journal of Innovation Management. 24 (5): 1-21.
Rosnita., Roza Yulida., Suardi Tarumun., dan Arifudin. 2013. Tingkat Keberdayaan Petani Sawit Pola Swadaya di Provinsi Riau. Prosiding Seminar Nasional: "Peranan Teknologi dan Kelembagaan Pertanian dalam Mewujudkan Pembangunan Pertanian yang Tangguh dan Berkelanjutan. Universitas Riau. 241-247.
Saaty, R. W. 1987. The Analytic Hierarchy Process-What It Is And How It Is Used (Vol.
.
Xin Long Xu, Hsing Hung Chen, dan Rong Rong Zhang. 2020. The Impact of Intellectual Capital Efficiency on Corporate Sustainable Growth-Evidence from Smart Agriculture in China. Agriculture Journal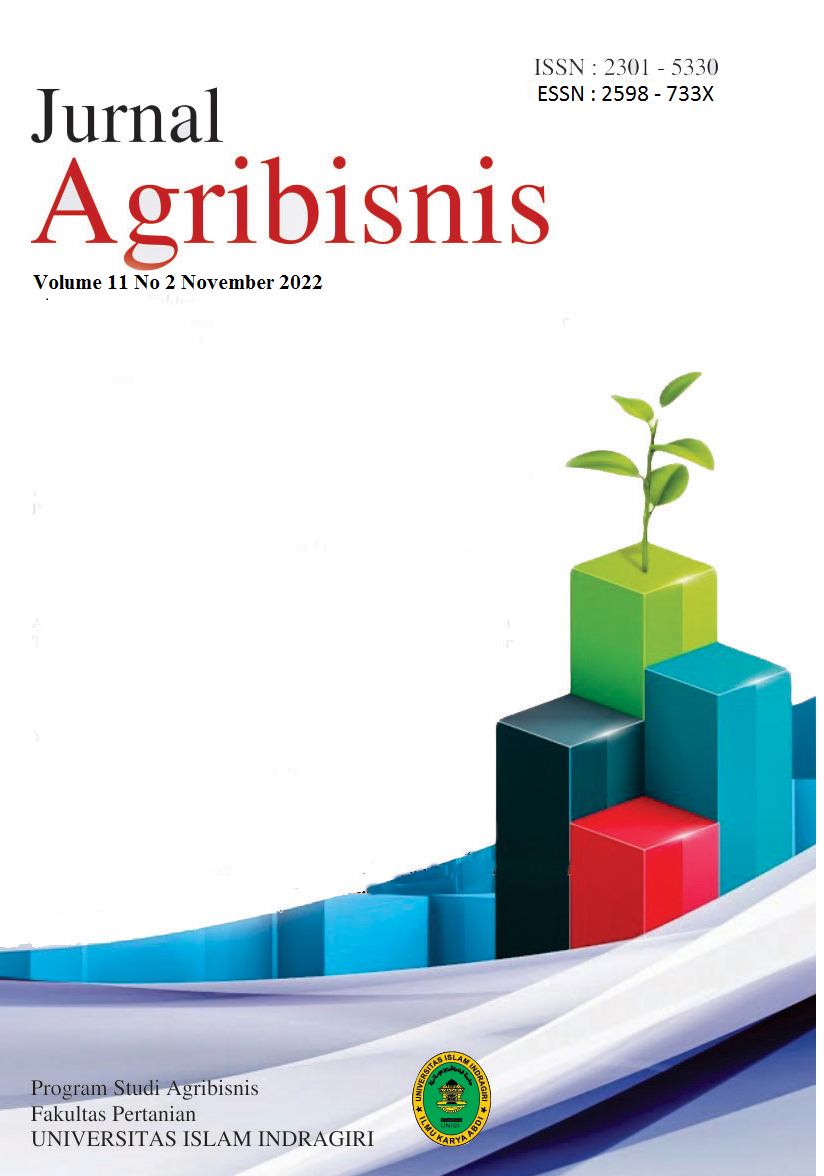 Copyright (c) 2022 JURNAL AGRIBISNIS
This work is licensed under a Creative Commons Attribution-ShareAlike 4.0 International License.